Sorry this update is delayed, we have been having trouble with the blog/ iPad lately.
TUESDAY. . .
VBS went really well. We were able to smooth out some minor issues and the kids (and our team) are loving it. Are numbers jumped to about 120 kids. The two hours fly by, but I think it's safe to say that we are all quite tired when it's over.
We took a walk around Crabwood Creek after lunch. We were prompted to do this upon hearing Hindi music coming very loudly from a Hindu home across the street.
Again the rain threatened to crash our crusade, Tuesday night. This time Hod choose to stop the storm and we were able to enjoy BEAUTIFUL weather at the crusade. After our team skit, Elle shared her beautiful story and powerful song. Jon preached and did very well. Both of them and our skit shared the gospel clearly. Praise God.
WEDNESDAY . . .
What a day! VBS went well again this morning. The numbers dropped slightly from yesterday, but we are not discouraged. We have started building some awesome relationships with these kids and love them all dearly.
Tonight we did not have a crusade. Rather, we went fishing and swimming in the Corentyne River. This was INCREDIBLE. The community that our team has built is absolutely incredible. The relationships that we've built with our Guyanese brothers and sisters in Christ has been an encouragement and joy to us all.
---
PLEASE PRAY. . .
1.) For the safety of our VBS children. Not only do many of them walk to VBS with their little siblings, but we saw many of them at the Hindu celebration yesterday. There truly is a war going on over their beautiful souls.
2.) For health. It seems that that every time someone gets wells, some else gets sick! Please pray for health so we can all serve the Lord to the fullest.
3.) Our last crusade is tomorrow night. Bethany will be sharing her testimony and Austin preaching. Please pray for them and for the crusade.
---
VBS games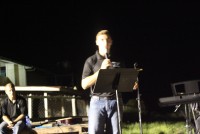 Jon preaching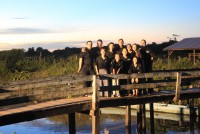 Group picture at the crusade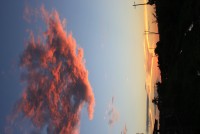 The sky on Tuesday night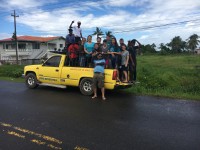 On our way to the river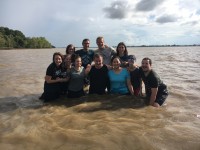 �