"I will make them and the places surrounding my hill a blessing. I will send down showers in season; there will be showers of blessing."
Ezekiel 34:26
We made it! We landed in Georgetown Guyana about 10:00 pm last night. We all made it safely without issue and all of our luggage made it! Praise the Lord. We had a 3.5 hour drive once we landed so after getting through customs and meeting with our missionary host family, pastor Vishal drove us to their house. We are staying at their house which is behind the church (Crabwood creek bible church) where we will be doing VBS starting next week. We finally arrived at 3:00 am after a long travel day.
Today began with rain that gave way to cloudy cooler skies for our first day adjusting to life in Guyana.
We know God is with us and has many things planned for us. As Ezekiel 34:26 shares, we are reminded of Gods goodness and faithfulness that he is with us.
Tomorrow evening we begin our first crusade to minister in neighborhoods around the village we are staying in. Please continue to pray for the Lord to show up and use us to do mighty things for his kingdom and to minister to the people of the village he's placed us in.
Hey everyone, this is Andrew, one of the Guyana team members! We made it here safe and sound. The journey here was smooth with little issues or hiccups. Coming into Guyana airport was a definite culture shock for some of us, but we were filled with excitement about the days to come. We met Pastor Vishal and he brought this awesome church bus to transport us to his families home. We rode on the bus for about four hours but it gave us time to bond and get to know one another. We arrived in a village called Crabwood Creek at about 3:00AM in the night. After a good nights rest, we spent the morning eating breakfast with Vishal and Naomi (Vishal's wife) who talked with us about VBS and our service here. The rest of this day was spent relaxing together and practicing skits for VBS. God is teaching us so much and we are blessed to be here fellowshipping in Guyana! We also have a few prayer requests as we begin our week. Please pray for the health and wellness of our group, especially our team member and sister Haju, who is under the weather and wishes to be her energetic self again. Also, we are still preparing for VBS and it would be great if you could lift up our leaders who need prayer. Thank you for all your prayers and support back in Michigan, and we look forward to sharing more in the days to come!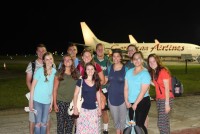 Arrival in Georgetown, Guyana.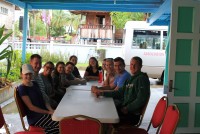 Breakfast today.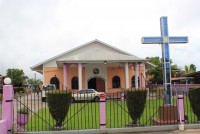 Crabwood creek bible church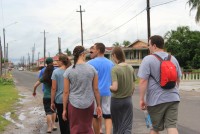 Walk through the village