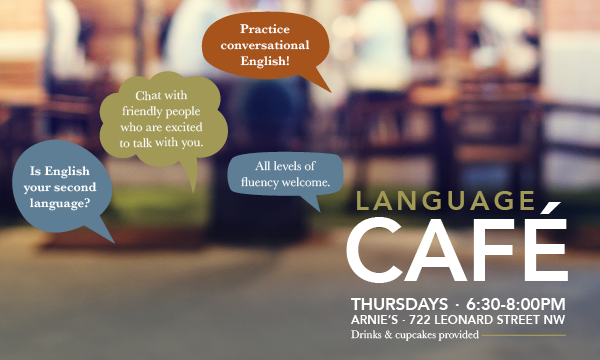 EDIT (9/22/2017): The Language Café now meets at Calvary Church (707 East Beltline NE) in the Gathering Place. Use Entrance A.
Every Thursday evening, a small group of volunteers from Calvary gather at Arnie's on Leonard Street to see who God will bring to the Language Café. The Café is open to anyone who is a non-native English speaker wanting some conversational English practice. Just recently we had 15 people around the tables representing Italy, Brazil, China, Persia (Iran), Korea, Iraq and America; there was a lot of laughter and pantomiming as we had fun speaking together.
The Café is an informal, relaxed setting with games like chess and checkers to get conversation going, as well as suggested talking points and questions. Gary and Linda Rodenburg, the leaders of the Café, make sure everyone has a cupcake or French fries (a favorite with our guests), and coffee or tea as everyone spends time together talking.
If you know someone whose native language is something other than English and who would find practicing in a non-threatening setting helpful, invite them to come to Arnie's and have some fun. Friendly volunteers are waiting to welcome them and help them improve their conversational English. No registration is necessary; come to the downstairs Banquet Room at Arnie's Bakery Restaurant, 722 Leonard Street NW, Thursday nights from 6:30-8:00pm.
If you are interested in volunteering, please contact Gary or Linda at . Please note this is not an ESL class – no experience or skill is necessary other than a love of people and a willingness to help them learn.