This Week's Sermon
Understanding and Using Technology
Titus 1:7
Jim Samra
November 17, 2019
Wednesday Nights at Calvary
Weekly Focus
Luggage Needed | November 17, 2019
Did you know that in Michigan alone, there are over 13,000 at-risk children and youth? Did you also know that many of these children have nothing to carry their belongings in but flimsy trash bags? This is unacceptable. Trash bags are slippery, hard to carry, and often break! Wedgewood Christian Services, a local Christian residential care and counseling ministry, is partnering with Calvary's Forever Hope Ministry (adoption and foster care ministry) and the Missions & Outreach Department to show the at-risk children and youth in our communities that we care by providing suitcases. Through this simple act of providing suitcases, we are demonstrating that we recognize their worth as image bearers of Christ. How can you get involved? Donate: Now through November 24, you can drop off your new or gently used luggage at the Clothes Closet Drop-off, located at the far west end of the building.  Please note: Next…
Continue Reading
College and Young Adults: Friendsgiving Feast
Both College and Young Adults will join together to share in a time of food, fellowship and fun for FREE!  Bring your favorite card or board game, something you are thankful for, and your appetite to feast on some Thanksgiving traditions with our friends here at Calvary Church. 
Thanksgiving Eve Potluck and Service
Celebrate Thanksgiving with your church family. Calvary will provide the main dish and dessert.  We ask that you bring sides to serve 12.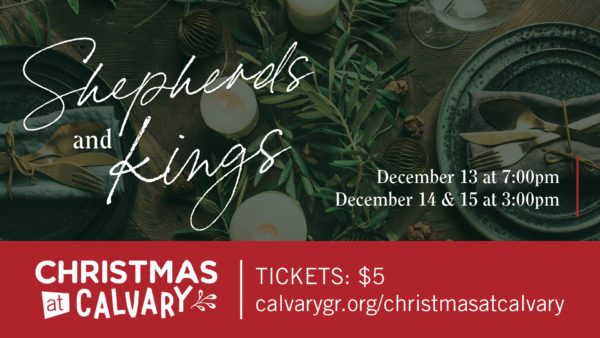 Christmas at Calvary
Join us for Christmas at Calvary, a wonderful way to share the joy of Christmas with friends and family. Tickets are $5 and all seats are general admission.