Today we wrapped our work week and job sites and said goodbye to the home-owners and those we have grown attached to over the past few days. Thank you Jesus for holding the rain off for all the work we wanted to accomplish today!
Ceiling Crew
The ceiling crew put in an extra long day making sure to leave things well for the group that will come in next week and finish up. They finished hanging the drywall on the ceiling and about a foot down from the ceiling around the perimeter of the room that needed replacement from some rotting.
The group got a card for the homeowners and it was a heart-felt goodbye. Mr. Robin and Miss Judy were such great hosts, feeding them each day and showing much gratitude for all the crew was able to accomplish.
Big shoutout to Frank who was our adult leader with this crew. You won't see him in the photos because he was always taking them. But he worked super hard overseeing and really leading much of the job and instructing others and helping them to serve well!  Way to go Frank!!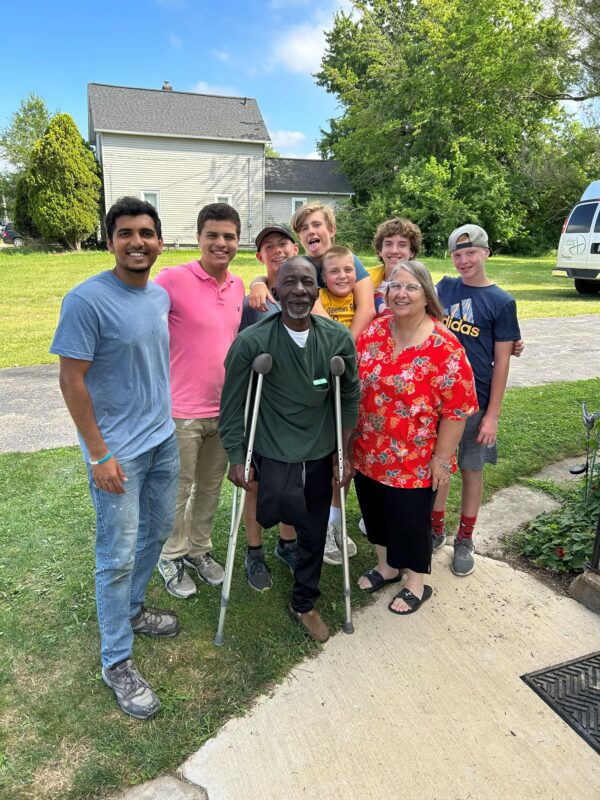 Garden Crew
The community garden crew were able to put their painted fence slats up today and said goodbye to Miss Mitty who made sure to exchange contact informati0on so they can stay in touch. Many new faces from the community showed up and wondered about what was going on at this garden and they were able to share about how Miss Mitty is being a light in the community!
Jodi was our adult lead at this site and has just done an outstanding job of leading our four students well. Jodi, as well as all of our girls and the other church, were very impacted by Miss Mitty, she really is an amazing woman with a great mission!
Roof Crew
The Lord heard our prayers for good weather and responded with a bit of cloud cover but no rain at all, a perfect day to be on a roof! Thank you Jesus!
After finishing the one large section yesterday and beginning tear off, we finished tear off today of the large section plus two smaller sections over the entryway to the house. Unfortunately what we found under that section was a bunch of retted boards that needed to be replaced. Since we did not have the boards available, we were only able to do so much today. We put the paper down and got as much done as we could before tarping it off and calling it a day.
We then loaded two truck beds full of shingles to go to the dump (the Next Step staff gets to have fun with that tomorrow because the dump was closed this afternoon).
We bought Becky a potted flower that we all signed. When we gave it to her she began to cry but made sure to let us know they were happy tears. She was a great host for us and we really got a ton done. Besides the roofing, many of our girls plus a couple girls from the other church did a ton of landscaping which was much needed.
After our session tonight we had the opportunity for our students to make a commitment to Jesus, really how they might take the "Next Step" in their relationship with Jesus. They came forward and we were able to pray over each of them individually which was such an awesome experience, a great way to end our final work day!
Tomorrow…Cedar Point!
Posted by Rodney @ 11:30pm