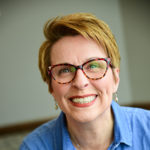 In Calvary Kids we are "guiding children to trust and follow Christ…for the rest of their lives!" We strive to provide a safe, nurturing place for your children, birth through fourth grade, while you worship in the Sanctuary, serve around church and attend classes.
We offer two primary areas of programming: Calvary Kids Sunday Mornings and Kids-N-Action on Wednesday nights. See details in our events calendar below.
Check-In & Check-Out Procedures
On Sundays and Wednesdays, all children need to stop by the check-in area to print their name tags and then be escorted by a parent or guardian to the room number printed on their name tag. At the end of our ministry time, kids must be checked out by a parent or responsible guardian (high school age or older), bearing the claim tag that was issued upon check-in.
Special accommodations can be made for children with special needs. New to Calvary? Contact our Care Plan Coordinator, Betsy Nolan, so we can get to know you and your family.